Conference Venue Art Centre Delft
The conference will take place at the Art Centre Delft, close to the TU Delft campus.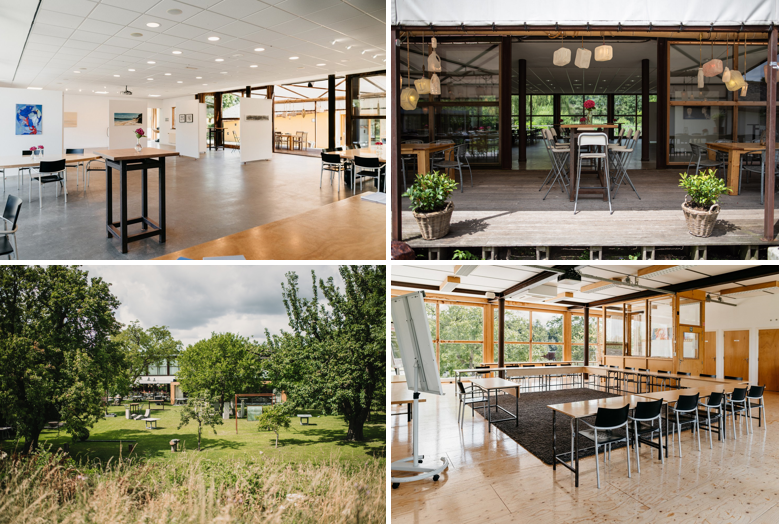 Art Centre Delft is a former farm from the nineteenth century, partly renovated, partly expanded with bright, spacious rooms. Glass parts from floor to ceiling give the feeling of staying in a glass house and a huge wooden terrace offers a fantastic view of the most beautiful piece of nature in Midden-Delfland in all seasons. What started as a Gallery for the arts has evolved over the years into an event location. Several spaces have been added, all designed together with the owners, Paula and Jeroen,  and made from sustainable materials.
The Gallery hosts about six different exhibitions per year, all made possible by the Land Art Delft Foundation. In the garden, sometimes hidden among the greenery, you can also see all kinds of works of art. During a meeting, or during lunch/drinks, a walk through the sculpture park of the Land Art Delft Foundation is really worthwhile.
 
Sustainability
A large part of the energy consumption of Art Centre Delft is generated via solar panels (90 pieces) and (mini) windmills. The building and surroundings of Art Centre Delft have a positive and inspiring effect on visitors due to the natural location and the abundance of light that is used. The ingredients of the catering largely comes from their own vegetable garden, where healthy, organic and from the own region, are central.
 
Art Centre Delft
Rotterdamseweg 205
2629 HD Delft
 
Directions public transport
Bus 40 from Delft Central Station to Rotterdam Central Station (2 times per hour, see 9292ov.nl/ )
Get out at the stop 'Bocxe shipyard'
Art Centre Delft is located on the same road, diagonally opposite the shipyard you find the path 'Overslagpad'
Walk down the path next to the electricity house (and large number plate 205).
Besides the public transport there will also be bikes for renting and coaches will be available at designated places in Delft to pick up conference participants. 
FNS 2023

Registration website for FNS 2023
FNS 2023FNS2023@tudelft.nl
FNS 2023FNS2023@tudelft.nlhttps://www.fns2023.nl
2023-06-06
2023-06-09
OfflineEventAttendanceMode
EventScheduled
FNS 2023FNS 20230.00EUROnlineOnly2019-01-01T00:00:00Z
TU Delft XTU Delft XMekelweg 8-10 2628CD Delft Netherlands